LUBBOCK, Texas – Six Texas Tech University students recently were awarded the Farm Credit Bank of Texas (FCBT) Academy of Honor scholarship. The students, who are all pursuing degrees in economics or agribusiness, shared in the $10,000 scholarship.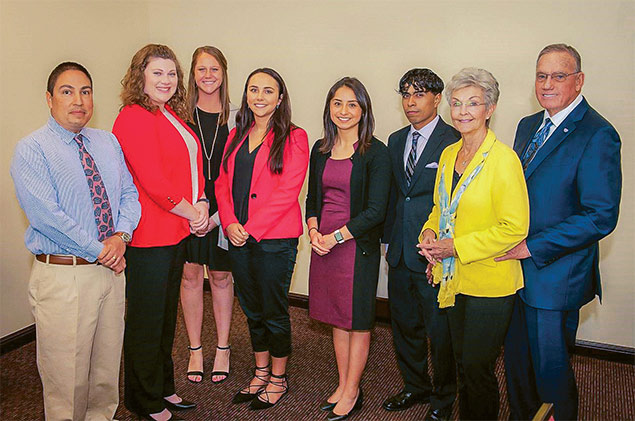 The recipients were:
Kloe Burris of Poteet, Texas
Omar Cortez of Brownsville, Texas
Jennifer Crowl of Morse, Texas
Kenna Faulkenberry of Stephenville, Texas
Matthew Looney of San Antonio, Texas
Myranda Villanueva of Schertz, Texas
This year's award was presented in honor of Texas Tech alumnus Jon "Mike" Garnett of Spearman, Texas, who was inducted into the FCBT Academy of Honor on April 5. Garnett is a former FCBT director and former member of the Pampa-High Plains Federal Land Bank Association (now Plains Land Bank) Board of Directors.
Created in 1968, the bank's Academy of Honor recognizes individuals who have made valuable and significant contributions to agricultural credit. A scholarship bearing the inductee's name is awarded through a college or university of his or her choice to students specializing in agriculture, finance or related studies.
Garnett raises grain and forage crops, and runs stocker cattle in the Texas Panhandle. He graduated from Texas Tech University with a bachelor's degree in agricultural education.
Headquartered in Austin, Farm Credit Bank of Texas provides funding and services to 14 rural financing cooperatives in Alabama, Louisiana, Mississippi, New Mexico and Texas. It also participates with other lenders in loans to agribusinesses and rural infrastructure providers. It is a part of the Farm Credit System, a nationwide network of cooperatives established in 1916.