The Farm Credit Bank of Texas has been a leading source of credit and financial services for rural Americans for nearly 100 years. Our long and successful history of financing agriculture and rural America is rooted in our cooperative structure and in other distinct business advantages:
We are owned by our customers; therefore, we operate in their best interests and share our earnings with them. We distributed $152.6 million in patronage and dividends — or 79.3% of our 2016 net income — to our affiliated lending cooperatives and other stockholders.
We don't take deposits. Rather, we access the nation's money markets through the sale of AAA-rated Farm Credit bonds, which provides a reliable source of funding for rural Americans.
Our policies are set by our board members, who are Farm Credit customers elected by their fellow customers. This form of governance offers transparency to our owners and investors.
Read more about the Farm Credit Advantage
---
2017 Election of FCBT Directors – Region 2
Names of potential nominees for the board position 1 and board position 2 from Region 2 for the Farm Credit Bank of Texas Board of Directors may be submitted to the Nominating Committee by any director or stockholder of an association holding voting stock in the Bank or by any Bank director. Any individual who is a voting stockholder of an association may submit his or her own name to the Nominating Committee as a potential candidate.
The Nominating Committee will consider and evaluate the qualifications of any individual whose name is submitted to the Committee as a potential director candidate.
Each candidate nominated by the Nominating Committee will need to complete the attached Candidate Disclosure and Qualification Statement and return it to the Nominating Committee through the FCBT Election Committee as follows:
Care of Carolyn Owen
Farm Credit Bank of Texas
P.O. Box 202590
Austin, Texas 78720-2590
The deadline for nominations from the floor is July 1, 2017.
Download Candidate Disclosure & Qualification Statement (Adobe Acrobat .pdf)
Farm Credit Marks 100th Anniversary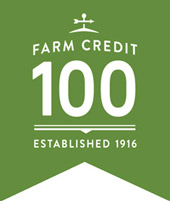 Farm Credit traces its roots to July 17, 1916, when it was established by the Federal Farm Loan Act to meet the critical need for a reliable and consistent source of agricultural credit.
Today, we're still providing the necessary capital to support rural communities and agriculture to be successful — and we look forward to another century of financing the ever-changing and growing agricultural sector. Read more
Learn about our Farm Credit history in the centennial issue of Landscapes magazine.