Farm Credit Marks 100th Anniversary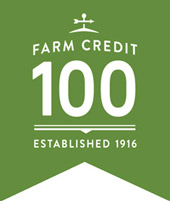 Farm Credit traces its roots to July 17, 1916, when it was established by the Federal Farm Loan Act to meet the critical need for a reliable and consistent source of agricultural credit.
Today, we're still providing the necessary capital to support rural communities and agriculture to be successful — and we look forward to another century of financing the ever-changing and growing agricultural sector. Read more
Learn about our Farm Credit history in the centennial issue of Landscapes magazine.