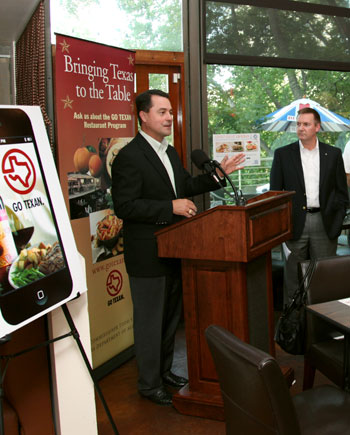 AUSTIN, Texas – There's still time this week to enjoy a great meal for a great cause. The Texas Department of Agriculture's GO TEXAN Restaurant Round-up, benefiting Texas producers and local food banks, continues through Sunday, July 31.
Participating restaurants are showcasing Texas-grown food and wine with special Texas menu items. Many of the restaurants also are contributing a portion of the week's proceeds to food banks in their areas. The week-long annual event is sponsored by Farm Credit.
"Farm Credit is a lender to the agriculture industry, so we are proud to be a part of TDA's GO TEXAN Restaurant Round-up because it promotes the hardworking farmers and ranchers we serve, while supporting local economies and food banks," said Stan Ray, Farm Credit Bank of Texas chief administrative officer, speaking on behalf of Farm Credit lenders statewide at a press conference yesterday.
Visit the GO TEXAN Restaurant Round-up website for more information and to find a list of participating restaurants.